I wasn't going to post today, but I was reminded of 2 things; today is
Veterans Day
and it is also Thursday, and it has been quite some time since I posted on
Thankful Thursday
. I have also come across
25 Days of Thanks
@
The Interrupted Life
blog, and I am drawn to the fact that, as I express my thankfulness to God for what He has done and continues to do in my life, my eyes are lifted up to see through the darkness that seems to permeate our nation and this world, and to see what God is doing in the lives of those who love Him.
A man from my church is now in his second tour of duty, this time in Afghanistan, and here at home are his wife, 3 children and extended family. Periodically we receive emails from him that he sends out to our church family, as well as prayer requests from his wife. As we know but perhaps cannot really fathom, it is not an easy life for those loved ones here at home and especially for those serving. Even as I read his emails about the conditions they serve under, my finite mind just cannot see or hear or smell what it is really like. But this I know, this man and many Christians like him acknowledge that they serve a mighty God, and they serve Him by living out their beliefs in Him, being His light to not only the others they serve with but also to the citizens of the country in which they are serving.
Matthew 5:14-16 promises:
"You are the light of the world. A town built on a hill cannot be hidden. Neither do people light a lamp and put it under a bowl. Instead they put it on its stand, and it gives light to everyone in the house. In the same way, let your light shine before others, that they may see your good deeds and glorify your Father in heaven.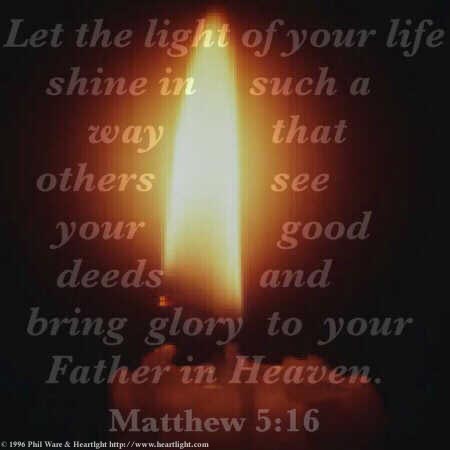 It is an honor to pray for this man and for the many men and women serving in the armed forces and to thank Veterans for their service to our country. So today, I thank the Lord for these men and women who have sacrificed and done their duty for the United States of America. May they know and hear the words of the Master, 'Well done, good and faithful servant!' (from Matthew 25:21)