Everyone at one time or another has sleepless nights,
tossing and turning over decisions to be made
or fears that seem to grow larger as the night progresses.
It seems to be human nature, just as it was for the
Israelites in the Bible.
I was reading a passage from David Jeremiah* this morning
about wandering in the wilderness, as the Israelites did for 40 years.
Even though God brought them out of slavery in Egypt,
they worried about their future; what would they eat in this
wilderness they were in?


Here are my thoughts ...
The One and Only God,
the God of the universe,
the Almighty, Creator of all,
had saved them from the hardships of slavery,
and yet they were worried about what they would eat.
It seems obvious to us as we think about this,
but is it really, when we compare it to our own lives?
A house payment is due,
a child is sick and there is no insurance,
a relationship is in trouble,
a diagnosis darkens the plans of a future,
and fear rises up to choke our beliefs,
and we begin to walk in the wilderness ourselves.
Unless, unless we get up in the morning after we toss and turn,
and there it is, our manna...
Just as the Israelites woke to the food of manna
that God provided for them daily,
we can wake up to the manna of Jesus,
Our help in the wilderness is not going to come from others,
although I do believe God uses others to help us,
but it is God who generates that help,
it is God who always is the answer to our needs.
The Israelites were provided this manna for 40 years,
and they had to gather it daily; it did not carry over to the next day.
That is the way with Jesus -
He is our daily manna, our Bread from Heaven,
and meeting with Him daily gives us the bread we need to sustain us.
In the book of John, Jesus was asked,
"What miraculous sign then will
You give that we may see it and believe you?
What will you do?
Our forefathers ate the manna in the desert;
as it is written: He gave them bread from heaven to eat."
John 6:30 -31
"I tell you the truth, it is not Moses
who has given you the bread from heaven,
but it is my Father who gives you
the true bread from heaven.
is He who comes down from heaven
and gives life to the world.
John 6:32-33
We have a choice when we find ourselves in the wilderness -
do we wander or do we trust in He that provides everything we need,
the answers to our prayers,
the peace we need in the face of fear...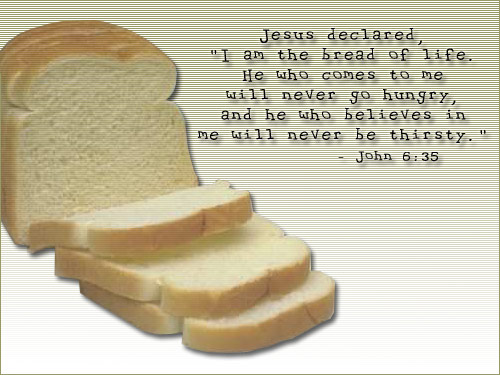 "I am the bread of life.
He who comes to Me will never go hungry,
and he who believes in Me
will never be thirsty."
John 6:35
Some days, I hang on to the fears I have, perhaps thinking I can
take care of them myself, that I do not need help,
but the truth is, when I taste my manna from heaven,
when I finally turn to Jesus on my knees,
He is all I need
and He is all I want.
He who has God and everything else has no more than he who has God only.
C. S. Lewis